LEHIGH CHORAL ARTS – ALL SINGERS WELCOME!
Lehigh's strong tradition of singing dates back to 1869. In 1978, the Glee Club and Chamber Singers combined under director Robert ("Boss") Cutler to form the University Choir. Since then, under Artistic Director Dr. Steven ("Doc") Sametz, the program has grown to include four ensembles:
The mixed-voice University Choir; our tenor-bass Glee Club; our treble choir, Dolce; and our symphonic choir, the Choral Union, comprised of students, staff, faculty and townspeople.
Professor Sun Min Lee joined the Lehigh University Choral Arts family in 2011. She leads a dynamic program with our treble choir, Dolce, and often directs the University Choir and Choral Union.
      LEHIGH CHORAL ARTS SCHOLARSHIPS                  
Prospective students will be interested in finding out about our
LEHIGH UNIVERSITY CHORAL ARTS SCHOLARSHIPS!
We seek fine high school musicians who read well and have leadership potential.  Scholarships include yearly stipends and free voice lessons.  Open to all majors.
Upcoming Concerts 
Lehigh University Choral Arts
Brahms, Poulenc, Ravel and Sametz
Saturday, October 22 - 8 PM & Sunday, October 23 - 4 PM
The 200-plus singers of Choral Arts perform
Johannes Brahms Nänie 
Maurice Ravel  Le tombeau de Couperin 
Francis Poulenc Gloria
and the world premiere of Prayers by Steven Sametz
Steven Sametz and Sun Min Lee, directors. LU Students attend for FREE!
Tickets can be purchased here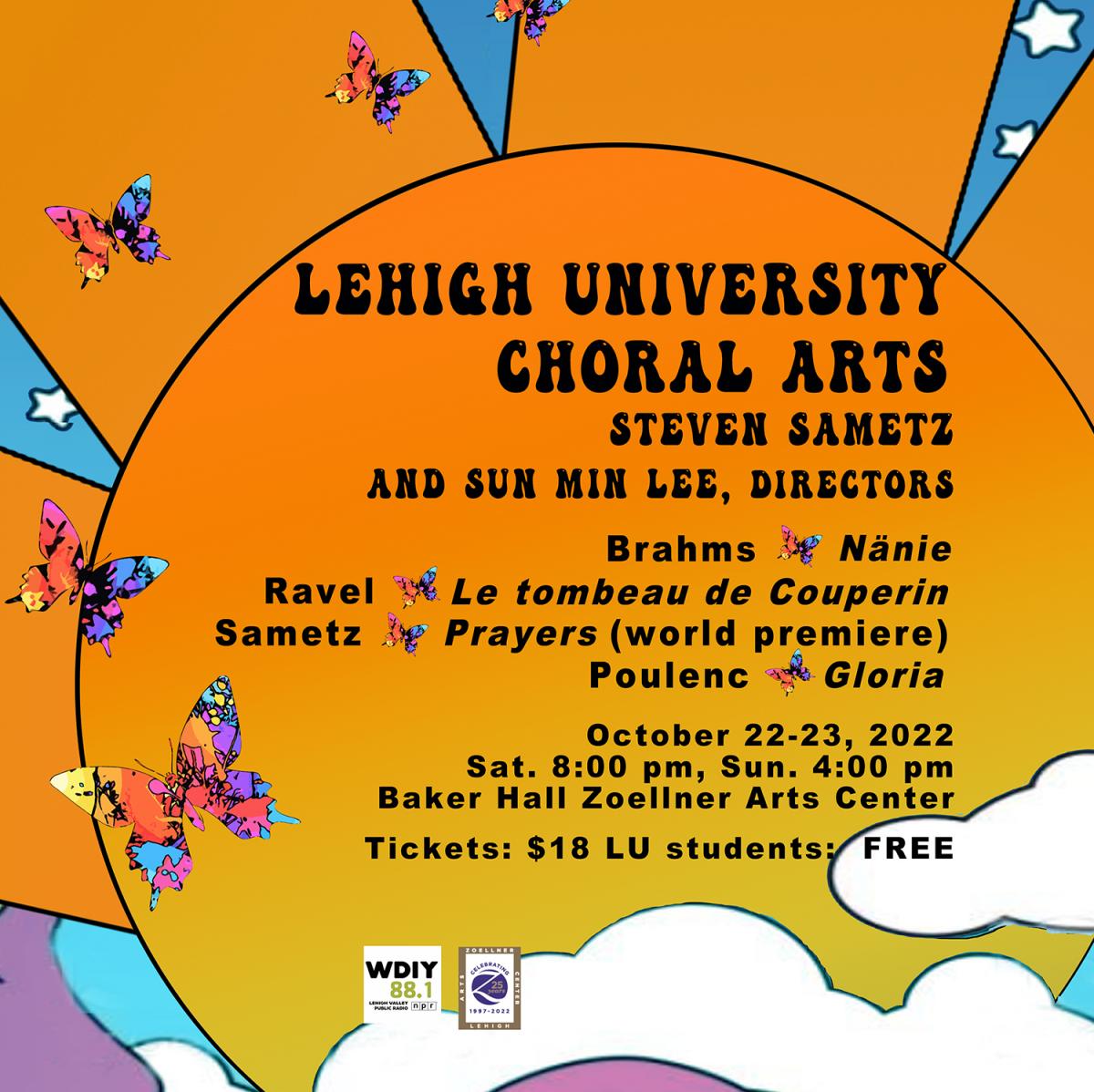 Lehigh University Choral Arts
Christmas Vespers
Sunday, December 4 - 4 PM & 8PM 
Lehigh University Choral Arts presents its annual candlelight Christmas gift to the community, performing in Lehigh's historic Packer Memorial Church
Steven Sametz and Sun Min Lee, directors. Early arrival is suggested.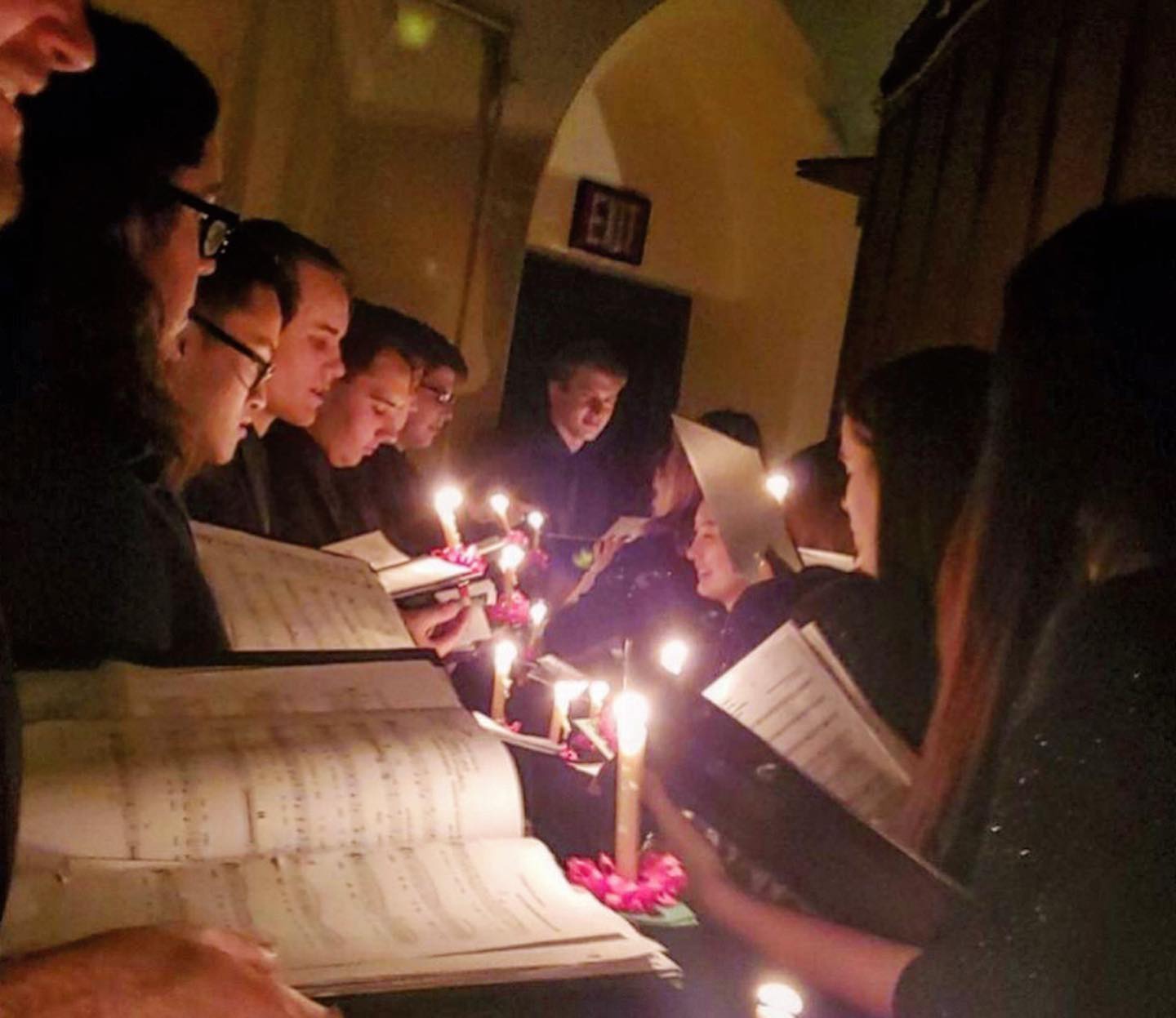 JOIN LEHIGH UNIVERSITY CHORAL ARTS
Lehigh University Choral Arts is comprised of four ensembles.  They all tour internationally and are featured at four concerts annually at Lehigh's state-of-the-art Zoellner Arts Center. 
All four ensembles carry Lehigh University course credit.
Lehigh University Choir - 50 undergraduate mixed voice choir
Lehigh University Glee Club - one of the oldest tenor-bass choirs in the nation
Dolce - The Lehigh University's elite treble choir 
The Choral Union - includes students, faculty, staff and townspeople. Lehigh valley's only symphonic choir, performing major works with orchestra
Townspeople and Lehigh staff and faculty may see more information on joining Choral Union here.
Current LUCA members can access the calendar for upcoming rehearsals and events here.
Students in our ensembles come from all disciplines of the University. Singers in the Glee Club and Dolce are selected from the University Choir.  There is only one audition required for these three groups.   
There is no audition required for Choral Union
All ensembles are offered for university credit. Auditions for University Choir, Glee Club and Dolce occur at the beginning and end of each semester.
Students: For more information on auditions or any questions, please contact Jacob Thompson (jat223@lehigh.edu). Townspeople, faculty and staff interested in joining Choral Union may contact Charis Lasky (charislucu@comcast.net).
Please feel free to watch or listen to some of our releases from the 2020-2021 season or explore some of our past performances! 
Reflections By Alumni
ELLIE (WOODS) KAHLE ('11)
"Choral Arts gave my Lehigh career purpose and an outlet to express myself surrounded by an amazing community. It was my home and safe place." read more
JOHN COLE ('82)
My dear friend and fellow Lehigh Choir alum, Karen (Lindquist) Randall, '83, once told me, "I think when you sing with people, you form a bond with them that is unique. A choir is different from your normal circle of friends or other groups you form based on many shared similarities. It's a more diverse group, drawn together by a single, mutual interest. It's the love of music that matters, at least at first. Then, as you join voices, something mystical happens. The thrill of creating something of beauty together forges that bond and leads to a realization: the differences between people you thought were there really aren't there at all. You become a better person. Making music has a powerful effect."  I couldn't agree more. I've heard similar sentiments from other musicians, and I know it's true for me.  read more